I found this really yummy peach/orange woven fabric at Hobby Lobby on clearance. I snatched up a yard and decided to make pumpkins with it. I used this pattern
http://sewing.about.com/library/weekly/aa101999.htm
for the main part of the pumpkin. I just made up the stems myself. I also enlarged the pattern to make 1 big pumpkin. I think they turned out awesome.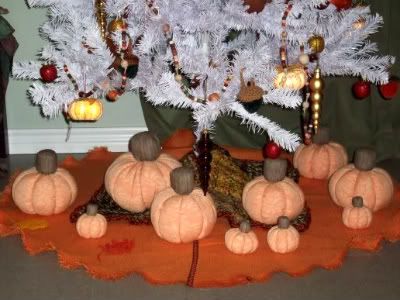 I also made the 2 layered tree skirt. The bottom layer is orange burlap with brown bias tape on some of the edges. I used a decorative stitch in orange to topstitch the bias tape to the burlap. I then sewed a zigzag circle around about 1 1/2 inches from the edge. After that I unraveled the edges to look like fringe. The top layer was made on the potholder loom. I wanted a plaid look. I think it turned out great. I crocheted the edges with orange and brown to tie it all together and to bring in the colors of the bottom skirt layer.
I think the tree turned out awesome.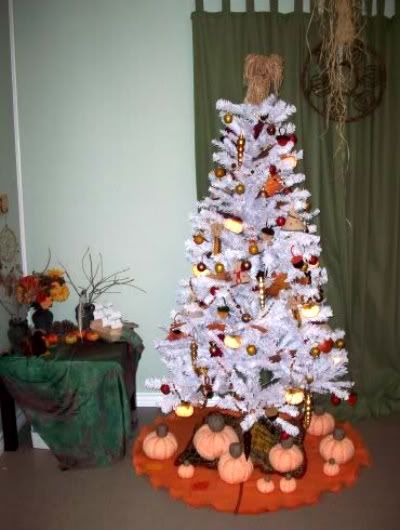 I found some great ornaments and made some more. I knew I wouldn't have that much time to get it done before Thanksgiving, so I'm glad I was able to buy some. I'll make more next year.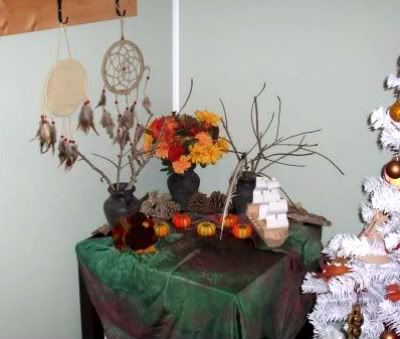 The seasonal table changed a bit from Halloween. I kept the jars, pinecones and bark on the table. I gathered some sticks from the yard for 2 of the jars. I put some fake flowers that my Nana bought for me while I was in college in the other jar. I made the turkey (see earlier blog). I found the dreamcatchers and ceramic pumpkins at dollar stores. Colin made the beautiful Mayflower on the table. Brian has been taking Colin to Home Depot once a month for workshops and this is what he made this month. Isn't it great.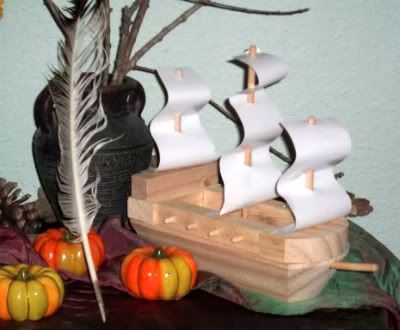 The white turkey feather is from my neighbor's turkey. It comes to our yard all the time. Colin found it and thought it needed to go with the other Thanksgiving stuff.
Well that's about it. Have a Happy Thanksgiving!!!!