Well my oldest son and I got together came up with a theme from his bedroom. He wants a Steampunk Rocketship Ghostbusters Transformers room, LOL. Well, I haven't been able to incorporate all of it, but here is what I have so far. I have not finished. I'll try to get more pictures later.
Here was his room before:
My oldest son's favorite color is green. When we first moved into our new house, I thought for sure that he'd want everything in his room green. But when we were buying curtains for his room he wanted blue and brown. Since the curtains are only a year old, they are staying in his room. He did however pick green as his wall color:
Here you can see that I taped off spaces for the portholes to look out into space.
This was about 3 days into the project.
The next 2 days I painted the frames for the portholes. I added alot of rivets in the frame. It was my first time mural painting with latex paints.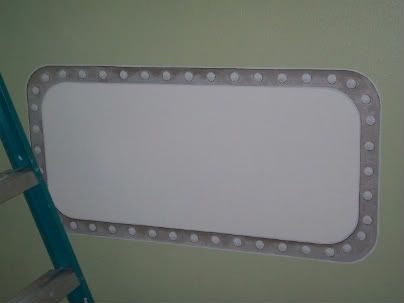 It took another couple of days to paint the space look in the portholes. Unfortunately, I can't seem to get a good picture of the space scenes.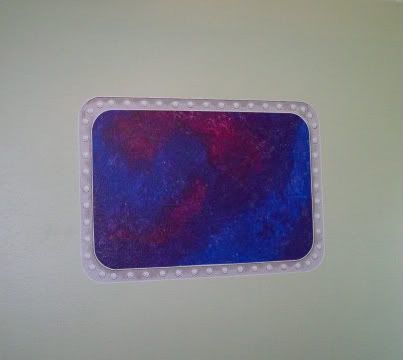 I also painted large rivets in the corners of the room, but I haven't gotten a picture of them. Most of them are going to be covered by furniture, but I wanted them there incase we decided to move the furniture around.
We have had technical difficulties with the furniture however. We decided to paint it all a deep chocolate brown. Well the paint won't cure. We followed the directions, tried repainting, talking to the paint guy representative, etc. So we still haven't gotten his room back together again. Its frustrating to say the least. I gave up on the bookshelves and just went and bought new black shelves. I'll get a picture of them soon enough. We still have to make the desk. He had a cheap particle board desk in his room. But we plan to build a desk using a sewing machine treadle base that I picked up at a garage sale. I just need to design it first.
Anyway, here is a sneak preview of the room finish. Its the lower porthole, on the bottom bunk.
Other additions:
I found some Golden Compass movie toys to display in his room (2 airships and the carriage).
I found a set of book ends at Goodwill that look like books lying on their side. They have secret compartment drawers.
I found a temperature and barometric pressure gauge at a garage sale for his wall. Score!!
I still have alot to go. But its been fun so far.