Here are the teacher gifts I made for the boys' teachers this year for Christmas.
For Colin's Teacher (who is an Aggie):
The Tissue Holder is a Puff to go tissue holder. The coasters are the crisscross coasters. The coffee mug corset cozy is my pattern. I'm not overly happy with the grommets on this one. They didn't set like they were supposed to, but I couldn't take them off, once I put them on.
This set is for Gavin's Teacher (Gavin picked the purple fabric):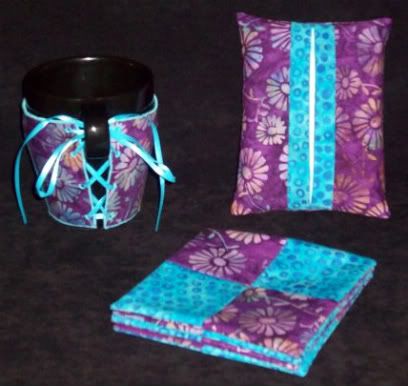 Same set that I made for Colin's teacher, but I hand embroidered the openings for the lacing on this coffee mug cozy. I picked the turquiose coordinating fabric for this set.
Gavin's aides and math teacher: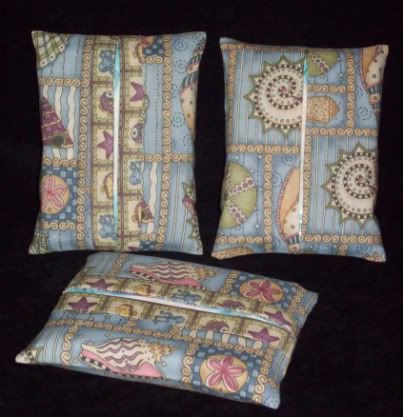 I made each of them a puffs to go tissue holder. I'm putting them in a special gift bag (I've only made one so far).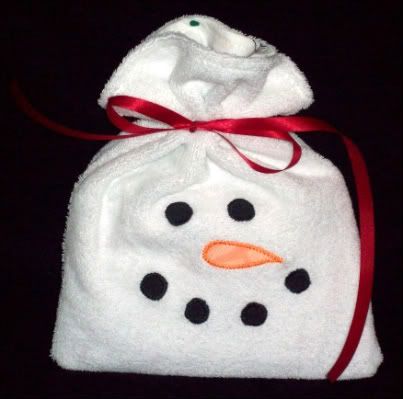 I'm hoping to make some bigger ones for the boys regular teacher too. I made the one above out of left over microterry that I had left over from my diaper making supplies. I used scrap fabric for the nose and coal mouth and eyes. The lining fabric was some Christmas fabric that I wasn't overly fond of after I bought it. It was too thin to use as gift bag fabric on its own. As a liner for the microterry, it works great.
And last, but not least, I made some more crayons for Gavin's classmates.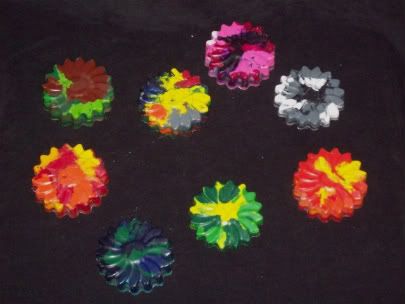 2 of the ones in the photo above are ones I made before, but the rest are new.