Well I decided to use up some of my fabric stash and make the goody bags for my 9 year old's birthday party this year. I wanted to do something different and I didn't want to give the kids just junk.
I found this pattern:
http://mylittlemochi.typepad.com/my_little_mochi/2005/05/origami_pocket_.html
And thought I'd give it a try. The bag ended up being too small but it was cute: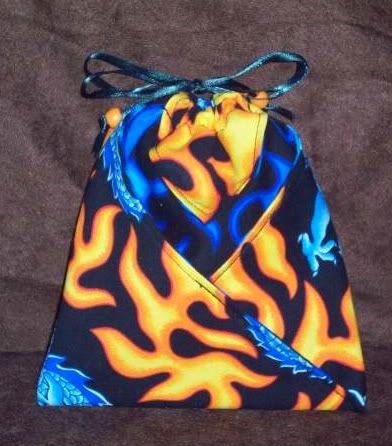 So I made them using a 16X16 inch square in stead of the 12X12 the pattern called for. The finished product is about 7 inches wide with this size.
I also made tissue holders and tic tac toe games and small drawstring bags to house them and the pieces. Then I stuffed them with left over party stuffers I have from years past. All I bought to finish these bags were ribbon, game pieces, tissue packets (all 3 of these from the dollar store) and some smarties candy. I ended up making 17 of them.