Well it seems every year for the past few years, I have the best of intentions to make cloth giftbags and wrap for Christmas and Birthdays. I never seem to get around to it. So that is my New Years Resolution..... to make at least 50 cloth gift bags and/or cloth wraps this year for my own personal use. I'm also thinking of making so to sell, so you see why I put that last bit in. Well I've gotten a good start this year. See what I have done already.
Here are 1-8 of the the 50 I'm making. Yep I've been a busy bee.
The first 4 are Media Gift bags that can hold dvd's/Wii games/Playstation games/books/etc. I'm still tweaking my pattern but I think I've almost got it perfected. I'm hoping to sell both bags and possibly the pattern to make the bags soon. I think I'll have it for sale soon. I'm still trying to write the directions, tweak the pattern, etc.
Anyway here are the first 3 in Christmas fabric: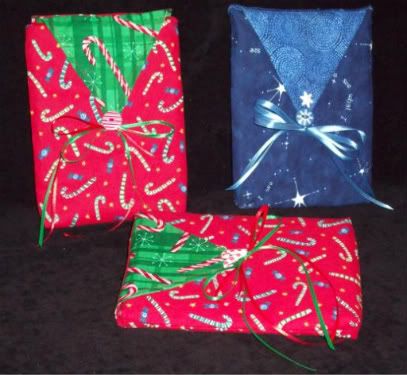 This next one is another Media gift bag that I made especially for my neice. Her birthday was this month and we got her a game for her Wii so I had to make a gift bag for it, LOL. I think this one is my favorite that I've made to date.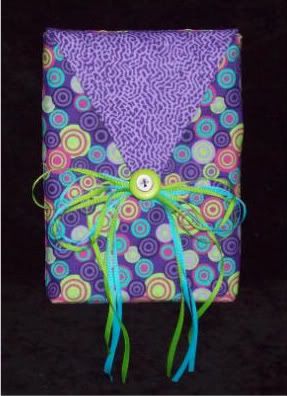 The next 4 gift bags were made on my circular knitting looms. I made them using different size looms (I have a set of 4 looms) and made them to different lengths. I think they turned out fabulous, LOL. I made them using Yarn Bee "Airy" yarn. The results are awesome and I love how they sparkle.
The first 2 are my "Santa" bags. I made them out of traditional red and white and I just LOVE how they turned out. I used the same sized loom for both (the 2nd smallest loom) but I made one longer than the other.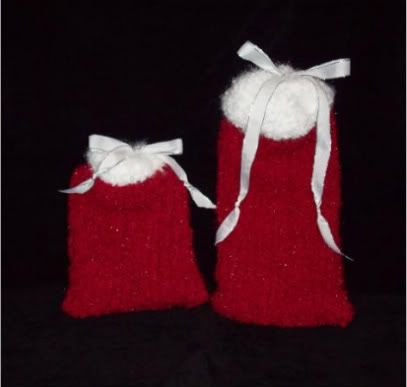 The last 2 are my tribute to Dr. Suess bags, LOL. When I saw these 2 colors together I just had to make a couple of gift bags out of them. The small one is made using my smallest loom and it makes the perfect bag for wine bottles and smaller items. The larger bag was made with my second largest loom and took a while to make. I think the results speak for themselves....