Well I was excited to get to decorate for Halloween this year. And boy did I have a ball doing it. Here are some of the displays that I had around the house.
This is a picture of some paper lanterns I found at Dollar Tree. I strung them between the curtain rod and a bookcase. I think the display turned out awesome.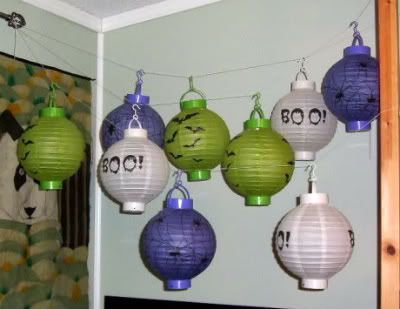 Front window.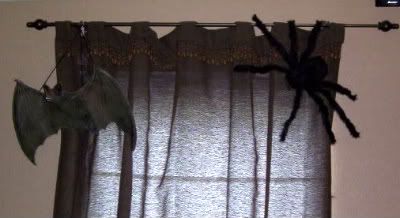 Side window.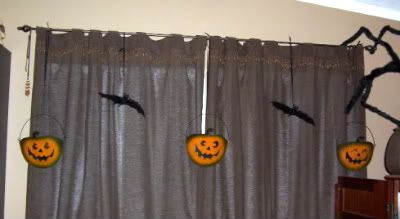 Signs by the Halloween tree and seasonal table. Colin made the blue picture on top out of craft foam. He made a Monster House, hehe.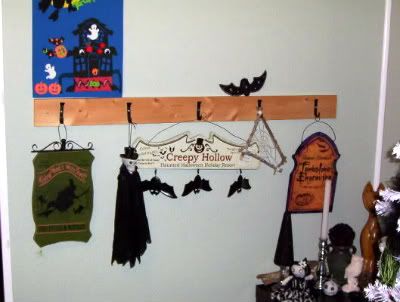 My Halloween tree and Halloween Seasonal Table. I just have to explain this. For the tree: I bought black and silver plastic balls to go on the tree (has to be plastic with 2 rowdy boys in the house). I used the kids dress up wizard's hat for the tree topper. The rest of the decorations I made. I'll post them in another post with pictures. For the Seasonal table, I made the 2 black trees, the black topiary flowers in the urns, the doll and the zombie heads. I found the urns at the 99cent store. I found the 2 owl statues at goodwill for $.79 each. I found the cat statue at goodwill for about $3.99 and the silver candlesticks for $2.99 for the pair. And we found the bark and pinecones around the yard.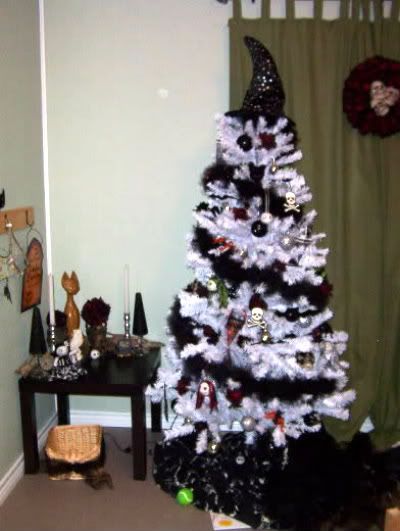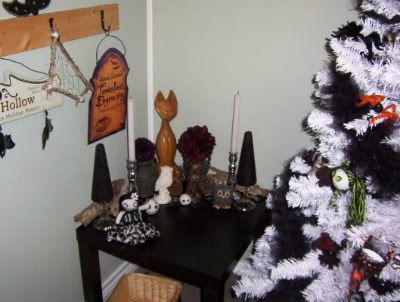 And last but not least, my messy bookshelves. I'm hoping these will turn out better next year, I've got some ideas for disguising the books. And of course I have to finish my potion jars.