Well I'm posting my Halloween post here. I know, I know its November 8th, but hey better late than never right.
I was surprised that Gavin put on his suit so agreeably. He spent most of the morning as a Pirate at school. He did NOT want to dress up for school. But I managed to get him convinced to put on the outfit. They had hayrides and a pumpkin patch at the school that day. I got a call from the school nurse that day saying that he ran into a pole, he was so excited to go to the activities, LOL. She called because she was afraid he would end up with a bruise. He didn't luckily. What can I say he came by being a clutz honestly. October 31st was the first day he rode the bus also. Boy, he did NOT want to get on the bus that day. Yes I wanted to cry when he was so upset about getting on the bus. But they took good care of him.
Colin's school didn't allow them to dress up. Yes the boys go to different school. In our district the schools are divided into 2 grades per school and all of the kids in the district go to the same school for each grade. Poor Colin didn't know any of the kids in his new class at the beginning of the year because he got put in the "Advanced Reader" class. Anyhoo, he was excited to go trick or treating that night.
Since we live in an area that doesn't have a safe place to trick or treat, we went to Glen's house and neighborhood to trick or treat. See our little me dressed as Spiderman....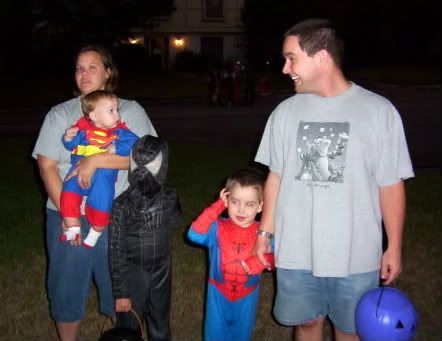 Colin dressed as the Black Spiderman and Gavin dressed as the classic Spiderman. Seth dressed as Superman and Conner dressed up as classic Spider man also but he wouldn't get in the picture. I think he was afraid of Colin's costume. Colin had a little trouble seeing out of his costume. He ran into a bush and fell down alot, hehe. He finally learned to pull the mask up between each house.
Gavin didn't want to go trick or treating. We had to practically drag him to the first 2 houses. Then he realized he was getting candy and it was a whole new story, LOL. We got him to say trick or treat. And after he got his candy, he would say "Say thank you" because we kept telling him "Say thank you Gavin", ROFL!! He did really well. when people would let the boys get their own candy, Gavin would pick only one piece even when they told him he could have more. When his candy bucket got too heavy and he had trouble carrying it, I tried to carry it for him between houses. He grabbed it back and told me no.
We finished trick or treating at the boy's Papoo's house. By then their candy buckets were full and we were all tired.
It was a great Halloween