So I've been working on a Thanksgiving tree since Halloween is over. I didn't want the tree to be bare. I also didn't want to take it down, decorate for Christmas early or leave up the Halloween decorations. So I decided to create a Thanksgiving tree. I'll be working on it for the next few weeks. I'll stop before Thanksgiving and post the result. Anyway, here is what I've made so far this week:
A Grain/Hay Stack Tree Topper:
I created this without a pattern. I used 3 different yarns to give color variation and used a large hook to crochet this. I was originally going to add crocheted chains to the outside for more texture but after adding a few I decided it didn't need it, but I didn't unattach them. I knotted extra yarn to the top of the stack to give it character. I also unraveled s few strands of yarn to also give it character. Then I just tied it around with a piece of yarn about 1/4 the way down.
Garland: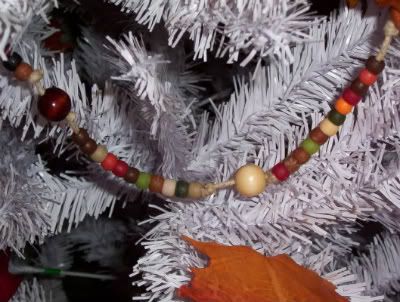 Made from Hemp twine, pony beads and wooden beads.
Knitted and Crocheted Indian Corn: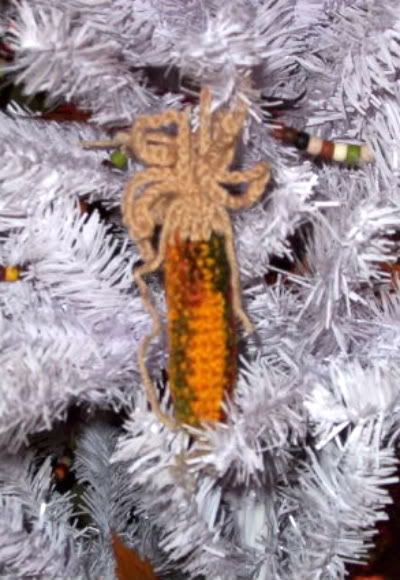 I cast on 15 stitches with mustard yellow yarn. Then used a Seed or Moss Stitch to create the kernels. I randomly switched my yellow yarn out with a fall multi colored yarn to give it more that indian corn look. I did this until it was about 3 inches long. I didn't count rows, sorry. To finish it off, I sewed up the top and bottom of the work. Next I gathered one end together to make the tip of the corn. I tied on a piece of husk colored yarn and unraveled it to look like cornsilk. Stuff the corn. On the other end, I crocheted a circle to fit inside the open end and then sc the circle onto the corn. Then crochet random sized loops pulling the outer edges into the center, all the way around the corn. Tie a string around the loops to gather them up. Use one of the longer loops to hang on the tree or simply use them as decorations in a bowl, cornicopia or where every.