I found a cute fabric shopping bag tutorial on Craftster.org and decided to try it out myself. The tutorial can be found here:
http://www.craftster.org/forum/index.php?topic=177482.0
Here are my bags: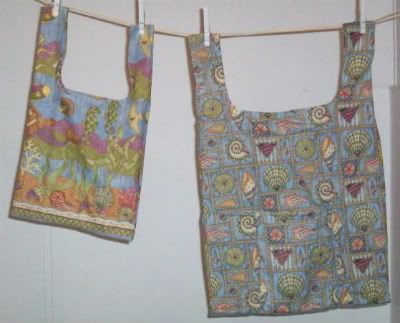 I used some Debbie Mumm fabric that has been in my fabric stash for a while. I had 5 or 6 different coordinating prints. Unfortunately since I used a Target bag as my pattern, I didn't have enough fabric to make more than one big bag and that bag had 4 different fabrics on it because I could squeeze more than side out of the directional fabric out of a yard. But I did get to make the cute little bag out of the scraps. I had a smaller bag that I got from somewhere and I used it for a pattern. I tried making the pocket on the smaller bag so that it could fold into itself, but I made the pocket too small. Oh well. But the big bag works perfectly. I absolutely love this fabric. Its not something I'm normally drawn to but hey when fabric calls to ya, you better listen, LOL.