I made some ball ornaments for the the tree in the boys room. We "lost" (misplaced) all of the ornaments that normally go on their little white tree. So we had to get and make more. Well since my son's favorite color is green we went with a green and teal theme on their little white tree.
I made these ornaments out of styrofoam balls, fabric scraps, beads, and embroidery floss.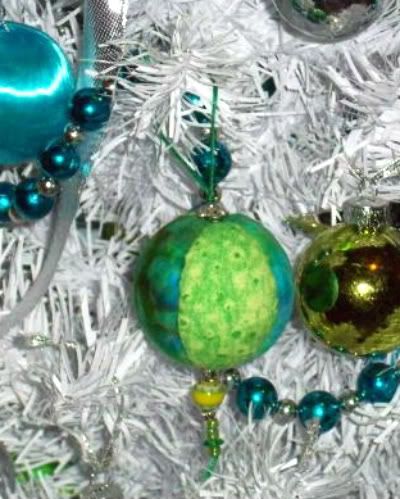 I took a marker and drew on the shapes that I wanted and took a butter knife and traced the lines with the butter knife. I cut out rough shapes to go on the balls out of the fabric in the shapes that I drew on the ball (plus seam allowance). I used the butter knife to shove the fabric into the seams. I threaded some beads on some embroidery floss and with a long needle, I ran that through (just the thread and needle) the styrofoam ball from the top to the bottom of the ball. Make the appropriate hoop at the top and knot at the bottom and your done.