I didn't go all out this year for Halloween. I just haven't gotten into my groove in the new house. I did, however decorate the living room. Usually I do a little bit in all of the public rooms of the house but I just limited it this year. I'll make more of an effort next year. So without
further
ado, ROFL...
Here are the only new
apothecary
items I made this year. More unicorn horns. I made them out of crayola clay. Colin made the one on the right. I added the details for him.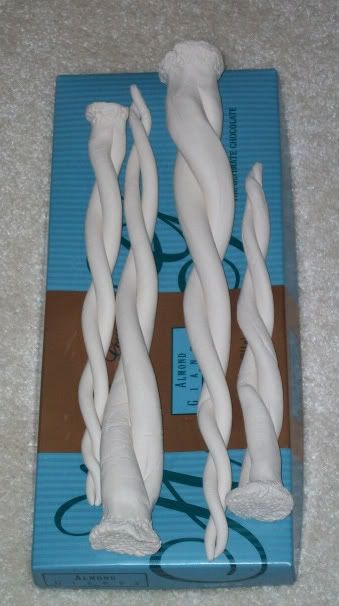 These are actually pretty easy to make. Take 2 pieces of clay that are about the same size, roll them out into a snake that has one end thicker than the other. Spiral them together and smush (a technical term) the thick ends together. For the texture, I used a blunt pencil and poked the thick end over and over to give a porous boney appearance. Then I used the side of a tapestry needle to give the horn some texture. I left any minor cracks in the clay for added texture.
We have built in bookcases on either side of our fireplace, so that is what I decorated this year with my apothecary/witch's kitchen stuff.
This is the left side of the fireplace: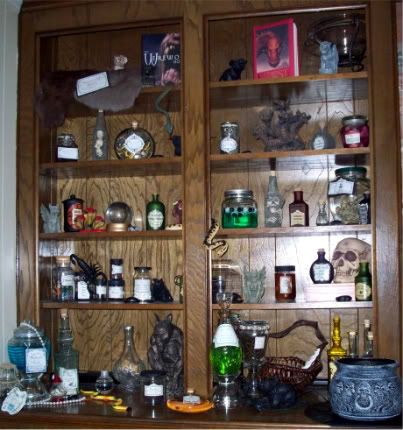 This is the fireplace or what I like to call The Alter and The Owlery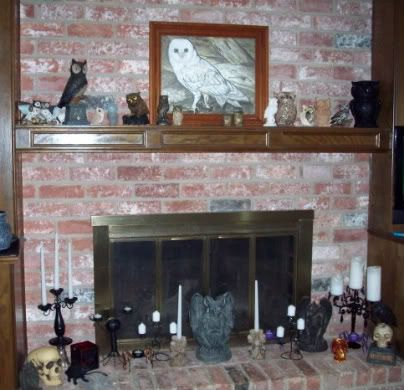 This is the right side of the fireplace, my youngest son was watching Thomas the Tank engine, so ignore the nonHalloweeny tv show, LOL.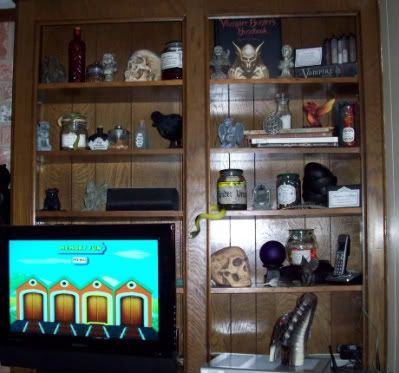 Here is a picture of this year's Halloween tree: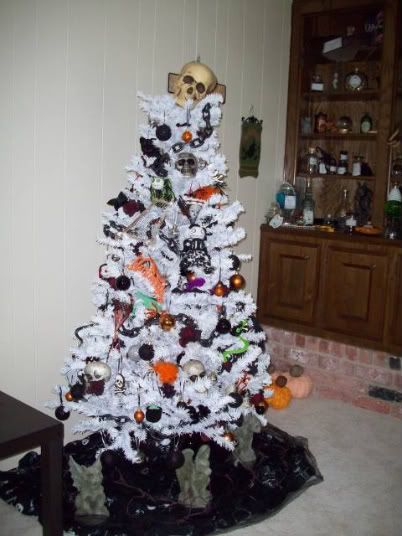 I decided to leave off the wizard's hat on the top of the tree/skull. I redid the garland yet again this year. The lights on the barb wire garland I made last year stopped working UGH!!! So I found this really cool faux chain at the dollar store and decided to use it for garland. I also added some rubber snakes to the tree this year. As for the garland from last year, I took it apart and used the barbed wire beneath the tree along with the tree skirt(a fleece halloween blanket), some black tulle, a strand of purple lights that did work and the gargoyles. On the other side of the tree I put all of the sewn pumkins but you can barely see them in the picture.
Here is a picture of one of the side tables in the living room:
Here are the "window treatments":
Here are some closeups of the bookcases: